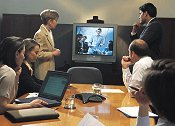 Deposition meetings are charged a flat fee and include up to 24 video connections with integrated teleconferencing.
The fee for use of the Med Legal WebEx deposition service is $49.00.
The service must be paid in advance by using the PayPal link which is located in the left column of this page.
For further questions, contact Rick Albert at (310) 593-4920
How do I get an invoice for the online deposition?
After the meeting has concluded, your fees will appear on your credit card report. If you would like a special invoice from Med Legal, we can send you one via email. This process normally takes 24-48 hours.
Can I access my bill online?
Due to security restrictions with disclosing credit card numbers and billing details, we are not able to provide billing access to users online. An Email will be generated 24 hours after a meeting is held detailing the applicable charges.
Will a hard copy of my bill be mailed to me?
No. Billing is only generated via email.