What is web deposition conferencing?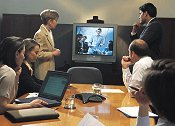 Web conferencing makes it possible for you to share what's on your computer desktop with people in other locations – in real time, over the web. Typically this happens in conjunction with a phone call or audio conferencing session, so you have the ability to show and tell.
Everyone can see the same thing at the same time, while you talk. All you need is an Internet connection to share anything on your computer screen with anyone, anywhere. Show presentations. Look at documents together.
You can work together like you do in person, without traveling. You'll save time and money, get things done faster. View the demostration video, just click on the link in the left column.
Schedule ahead
It's so easy to use the Med Legal/WebEx service that you can quickly turn an ordinary phone call into "show and tell". Just schedule a meeting with the Med Legal office, open a web conference and send a link to the person you're talking with so he can join you.
You can open your deposition conference from any web browser, from a handy desktop console. You can just click on the ball in your IM program, Skype, Word, Excel, or PowerPoint document to begin sharing your desktop when you use Med Legal/WebEx Meeting Center, for example.
You can also schedule Med Legal/WebEx sessions in advance using Outlook and sending out invitations, just like you would for in-person meetings—even using the recurring feature for regularly scheduled meetings. It's a great way to make conference calls with remote teams much more productive.
The Med Legal/WebEx deposition tools work across platforms, so you and your deposition attendees can participate in the same session from PC, Mac, Linux, and Solaris systems.
Simplified experience with integrated audio conferencing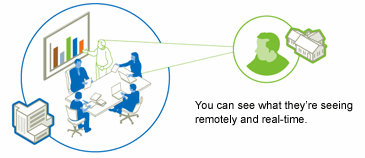 Med Legal/WebEx audio conferencing is an integrated part of the session, included in the same invitation. Once people join the deposition, they'll connect using the audio options, which may include toll free call-in, call-back, or VoIP, depending on your service. People who are not at their computers can still join the audio portion of the meeting and participate that way.
Share anything on your desktop
Depending on the capabilities of your web conferencing software, you can share your whole desktop or just a single application. Everyone in the meeting can see whatever you decide to share—even if they don't have that application installed. And you can pass control, so others can share from their desktops as well.
Make web depositions more personal with a webcam
You don't have to use a webcam with your Med Legal/WebEx deposition conferencing, but you can if you like. It can help add a more friendly tone to your online meeting, particularly for presentations. Some people choose to turn a webcam on at the beginning of a session to make that face-to-face contact (showing the host only, or a round-robin of attendees, with everyone saying hello), then turn it off so full attention is on the shared visuals.
Get started now
Once you start using Med Legal/WebEx deposition conferencing it quickly becomes essential to the way you do business.
| | |
| --- | --- |
| | Verify that you and the other Attorney have the minimum PC configurations to conduct an online video deposition. All Med Legal First Physicians are already equipped. |
| | --- |
| | Once you have verified that all parties have the requisite equipment, call Michael at Med Legal First (310.593.4920) to verify and schedule your desired IDS™/WebEx deposition date/time. |
| | --- |
| | Click on the PayPal button to prepay for the service. The rate for an online deposition is $95.00 (minimum 2 hours) with a maximum of four (4) connections. Simply stated, a connection is the number of cameras connected to the WebEx site. Any number of people can participate via the telephone. |
| | --- |
| | After Med Legal has received comfirmation of payment, you will be contacted and a conference number and login URL will be provided. |
| | --- |
| | At the appointed time of your deposition, Med Legal will be present (online) to assure that things are functioning properly and log everyone into the system. Once that has been accomplished, Hosting privileges will be transferred to the Attorney designated to run the meeting and Med Legal personnel will log-off the call. |
| | |