Increase your productivity with Internet Deposition Service™ (IDS) and at the same time, free yourself from the time and distance constraints. With IDS you can free yourself from long drives to pariticpate in depositions. Now you can do depositions from anywhere to anywhere.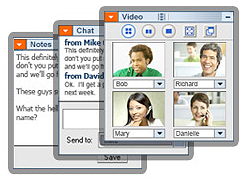 As you may be aware, on-demand conferencing is rapidly becoming a major communication medium for the legal community. By combining the ease of audio conferencing with the interactivity of video conferencing directly from your desktop, you create a truly interactive experience.
… and best of all, every Med Legal First Physician has already been trained and equipped with a MedLegalFirst supplied webcam (in short – ready to go)…
About Internet Deposition Service (IDS)
Med Legal First, combined with a service from Cisco/WebEx are now offering Attorneys' the opportunity to conduct online depositions.
The WebEx online meeting applications and services is already helping customers all over the world including Apple, IBM and others. As evidence of this, more than 7 million people use Cisco's WebEx products every month to communicate and collaborate online.
When using IDS, there's no need to worry about ports, platforms, versions, firewalls—or even the Internet. All you need to run effective online depositions is a browser and a phone. Collaborating with colleagues using WebEx solutions from MedLegal is as easy as point and click—making it effortless to meet with anyone, anywhere, at any time.
Reliability
You should also know that WebEx builds on-demand applications on an unrivaled, global architecture dedicated to performance and "always on" reliability.
State-of-the-art security and confidentiality
Med Legal First selected WebEx as our vendor of choice because they encrypt every deposition ensuring that your most sensitive communication stays private. No traces of any deposition is ever retained on the network unless you record it specifically for future use.